Bowl 900 – 10K Give-a-way
Kingpin's Alley is Giving Away $10K!
Kingpin's Alley prides itself on being a great scoring bowling center.  In the history of ABC/USBC there have only been 37 approved 900 series thrown.  Kingpin's Alley is giving $10,000 to the first bowler during the 2021-2022 season to shoot a perfect 900 three game series.  The contest is open to all certified league and tournament bowlers.  The 900 series must be shot in a certified league or tournament and it must be approved and recognized by the United States Bowling Congress.
Download the flyer above and please read all of the contest rules.  See front desk personnel with any questions.  Good Luck!!!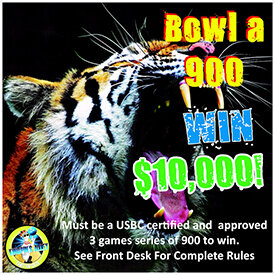 $10,000 FOR 900 CONTEST (Official Rules)
This contest is open to any USBC certified bowler who is participating in any USBC certified league or tournament that is held at Kingpin's Alley. The contest will run from August 30, 2021 through August 29, 2022.

To qualify for the award, the bowler must bowl three consecutive perfect 300 games during a regular, USBC certified league session or during a USBC certified tournament. All USBC rules must be followed.

No pre-bowl or post-bowl scores will be allowed. Kingpin's Alley personnel must be in attendance to witness the actual games being bowled.  Any score corrections must be performed by Kingpin's Alley personnel.

Once the series has been verified by Kingpin's Alley management, the series will be submitted to USBC for its approval. Kingpin's Alley will only pay the $10,000 award providing that USBC officially certifies and recognizes the series.

Kingpin's Alley management will have the sole authority to void any apparent winning series should it determine that any rules were not followed or if there is any indication that any tampering with score has occurred. (i.e. a score correction performed without Kingpin's Alley personnel witnessing it).

There will be only one winner of this prize during the time frame described in rule #1. The first bowler to have a 900 series recognized and approved by USBC will be declared the winner.

It shall be the responsibility of the winner to pay any and all taxes associated with this prize.  Kingpin's Alley will report the prize winnings to the IRS as required by law.